Epic Prankster: Hide and shoot
for Android - Download APK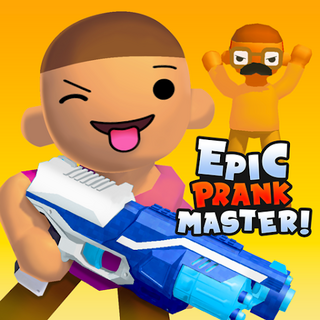 Epic Prankster: Hide and shoot

Description
The Epic Prankster battle is ON! This is not a joke! Can you tag and blast everyone without being caught in one of the best epic pranking games? Yes or no?
Your quest is simple, prank master...Grab your Blaster and Prank them all! There is no game as cool as this one, so gotta play and prank your mates like a big fat liar!


The prankster 3d game is a cool real-time strategy game for all prank games fans and real pranksters out there that are fans of funny games like slap and run, hide-n-seek, prank air-horn, fart, pranking with siren sounds...

The main goal of the game is to hide and seek for a good spot where you can tag all your friends with your epic Blaster. They are very reactive, so it will not be easy - you need to shoot like a real prank master. To fully enjoy the game, make sure to enable " do not disturb " mode on your phone to avoid interruptions.

Enjoy making pranks just like in prank air-horn, fart, pranking siren sounds and many more funny games! React and think quickly, like in slap and run. Hide behind objects like in those hide and seek games. If you can't compete, than do not disturb!

There is no game where you can use your strategy and tactics at the highest level like you can do in Epic Prankster! Try not get caught and move to the next prank games level.

BECOME THE BEST PRANKSTER! Tag everyone in sight, don't get caught and, above all, have fun like a prank master cause this is not a joke!
UNLOCK ALL KINDS OF BLASTERS! Collect different Blasters to become the ultimate prankster! Unlock them all as you progress in the prankster 3d game.
PERSONALIZE YOUR CHARACTER Unlock all the fun Characters and Skins. Just act fast like in slap and run! Play as a Ninja, a Clown or even a Robot!
BATTLE IN AWESOME ENVIRONMENTS Unlock new Blasters and characters! Only 1% of players unlock all the characters and blasters

⏩ Will you be the one that will prank them all? Remember, if you don't tag and hide and seek fast enough, your friends will catch you. You have to be a big fat liar and fast enough at the same time and not let them catch you so you can prank them all? You be the judge in one of your favorite prank games!

Play for free. Challenge yourself to become the best funny games player ever... This is not a joke game like those classic and boring prank games. This is a new, free, prank game for boys and girls just like slap and run, hide n seek, prank air-horn, fart, siren sounds pranking and prank master 3d.

List of the features of your new free casual game:
🎯 The funniest Blaster challenge (you have to be a big fat liar to win this challenge)
🔫 100% free prank games
🎯 There is no game that has fun and addictive prank master gameplay like this one
🔫 Game for girls and boys
🎯 Many characters and Blasters
🔫 Add " do not disturb " sign while playing

About Homa: Epic Prankster: Hide and shoot is produced by Homa Games. Homa is a top publisher of Hyper Casual Games, Puzzle Games, and Casual Games. Homa published games like Sky Roller, Z Escape, Voodoo Pranks, Farm Land, and many others. Relieve stress, anger, and bad thoughts, or train your brain with a relaxing, satisfying, yet challenging game anywhere, anytime!

If you believe that pranking and blasting enemies is not just a matter of luck, show your abilities and become the best blaster ever. Best of luck! Do you have questions regarding our game or need support? 😎 Privacy Policy 🏳️‍🌈 Terms of Service 💌 Contact Us Follow us on our social: 🤟 Facebook 🤟🏽 Twitter 🤟🏼 Linkedin 🤟🏿 Tiktok
If the placement of this app violates your rights, please report us via the contact form.