Bus Games: Bus Simulator Games
for Android - Download APK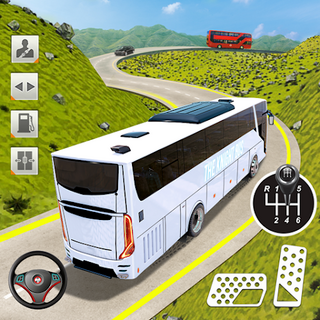 Bus Games: Bus Simulator Games

Description

Bus simulator for bus game driver!
Bus game with the combination of parking game and driving game is finally here for drivers out there who love to drive and simulate buses. Pick up the passengers from bus stops and start your journey by moving from one bus station to another until you drop all the passengers in bus wala game. Transportation of passengers have never been so fun before this bus parking game. Modern Bus parking game has amazing features among other simulation games. Play this ultimate simulator and become a driver of bus games and parking games.

Bus simulator is one of our popular games like other free games. Transport your passenger bus through the crazy off-road tracks, city and highway in our offline games. Pick & drop passengers safely while hill climbing in off-road mode and show your driving skills. Drive like a professional off road bus driver, be a hill climber and leave that dirt behind in our bus simulator. Bus game adventures made more fun with our popular games that is highly recommended to bus games lovers.

City Traffic Mode
Drive your favorite buses in between the traffic of city and become a pro bus driver with driving games. Our city in the game has amazing roads, buildings, and bus stations with realistic traffic rules to avoid road rash. Drive bus and don't forget to wear seat belt like a good citizen. Experience the whole new world of bus game with our excited new city mode launched just for our aspiring bus drivers.

Realistic Bus Parking
Practice the art of parking vehicles with bus simulator by passes each level of bus game. Bus parking comes with multiples modes to facilitate drivers with realistic environments in our real game. Avoid collision with other trucks, cars, hurdles and bikes on the road specially in traffic mode. Offline games with the combination of bus driving and parking were never this fun in any racing games.

Brand New Challenges
Play each game level to unlock the next level in order to earn coins in bus game which helps you to buy more in game busses. Our popular games will change your views regarding parking games and free game. Our 'Bus Simulator Game' are specially designed for those who love transport passengers in bus games. Hard game challenges will make your task more difficult in our free games. become the coach of bus simulator just like in public transportation games.

Ultimate Driving Experience
Bus simulator gives you the ultimate 3D simulation experience among other new games and bus wala game. Calling bus drivers for bus game to pick passengers in public transport and drop them to their final destinations. Anybody can park cars in car parking games but 99% people fail to park bus properly in bus parking games. Take the challenge and become the master of bus simulator & parking games
User Creative
Bus game brings its drivers a unique feature which is new to other bus simulator & parking game. It's time for bus drivers to show their creativity and make their own way to drive bus on with our new user creative mode. You can't just make tracks but also able to selects hurdles as well as weather conditions in bus simulator game. Drive and park your giant bus transport in parking areas and don't collide with cars and bikes. Users love it, so they have given it the name bus wala game and gadi wala game.

Hard Parking
Call for pro drivers who can park anywhere or loves to take challenge in parking games. Recommended to those driving games drivers who call themselves a champion of road rash. If you like Bus games (Bus Wala Game), then you will love 'Modern Bus: Drive Parking 3D' game. Our new games are our popular games.

Bus Game Variety
Play our offline games with multiple buses to polish your bus driving skills. Bus simulator consist of multiple buses to drive on beautiful roads of different stunning modes i-e desert, off-road, snow and the city. Play free games and enjoy the endless driving and parking fun with coach bus drive.
If the placement of this app violates your rights, please report us via the contact form.