FPS Encounter Shooting 2020: New Shooting Games
for Android - Download APK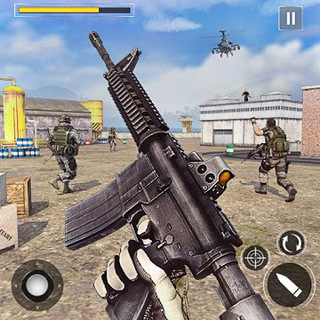 FPS Encounter Shooting 2020: New Shooting Games

Description

Want to be entertained alone? Then don't hesitate to step into the exciting and thrilling war as you shoot your way through one desperate situation after another to save the world. Step onto the battlefield and answer the call of your companion player being captured by the enemies. Create your own load-out from AR, Sniper and Grenades available in the Weaponry Store and test your skills in dynamic warfare against offline rivals from around the world. Brand-new FPS encounter shooting 3d offered for free. We proudly present a new military war on the play store especially for the fps games' lovers. Challenging & action pack fps new shooting missions make this army game stand among top action games 2020.


KEY FEATURES:

01: Interactive and Action Themed Environment
02: Tons of Thrilling Shooting and Sniping Missions
03: Big Range of Modern Weapons (Sniper and Assault)
04: Easy and Intuitive Gun Shooting Controls
05: Advance AI based Enemy: The Challenge is Real


The addictive environment and modern weapons of combat will make thrilling your free time. You are a commando soldier in this action battleground and it is your duty to shoot all enemy soldiers. This is a shooting game 2020 that includes range of deadly weapons, modern guns, combat arsenal and much more. You are an expert soldier with commando training from an elite army, so come at frontline and lead the action combat. You have many modern metal & modern shootings skills to be equipped in this new game and you should show yourself that you are a modern trained commando in the world. In the history of free shooting games, this is the best fps for you.


ADVANCE ARSENAL, WEAPONS AND MODERN SHOOTING:

Leaders come from frontline and lead their commando team to success in each battleground and combat. Your role is of a best sniper, assault shooter and of a modern trained commando. This combat game is full of shooting missions based on thrilling storyline making it the best action game. If you like new games 2020, then this commando game will fulfill all your desires about shooting. In this free game, you have modern weapons like bullets, sniper rifles, assault shooting guns, pistols and grenades etc. Victory is challenging in shooting games and you will have to show your snipping skills. Your criminal enemy soldiers and gangsters are not normal foe; they are very dangerous but be strong enough to have courage in this new sniper game. If you want to see all of your enemy targets, then you should show your sniper skills on them. You are the best army shooter and runner to fight in a battle and combat in the survival game's environment. You should shoot all criminals with your bullets in the limited time in this gun fighting war.


THRILLING MISSIONS, INTELLIGENT ENEMY:

This action sniper game has many levels for army commando and shooting tasks to complete. If you will complete all these gunship targets by advance gun fighting, then you could win this strike and survival game 2020. After completing each escape free gun shooting challenge, you will be promoted to the next war & combat challenge. You have many weapons like sniper rifle and AR weapons etc but these will be locked in initial stage. So, you should unlock them to shoot all your enemies. Online Multiplayer and Team Battle squad modes are coming very soon. Now, what are you waiting for? Download this and taste victory by shooting all the bad enemy soldiers.

Play one of the best offline gun mission with unlimited fun. You have to be a real shooter. If you ever wanted to play military shooting games than this offline gun simulator is just for you. So, I suggest you to play this new and polish your commando games skills.
If the placement of this app violates your rights, please report us via the contact form.